TORRESBRED FAMILY REFERENCE

MOST FAMILY MEMBERS WERE BRED AT THE TORRES LOFT AND ALL POSTED RECORDS WHERE EARNED AND ARE AMERICAN MADE!

CONTENDER Torres bred Janssen

O.B. American Ace Pigeon 2000+  RP Digest

4th    vs.  2198b   400mi

5th     vs   2161b   400 mi.

13th   vs  6852b   400mi

20th  vs  2410b    300mi.

39th  vs  7095b    260 mi.

43rd  vs. 3487b   300 mi.

46th  vs. 2739b   260 mi.

45th  vs. 3153b   260 mi.

62nd  vs. 3436b   100 mi.

83rd  vs. 7996b   260 mi.

Son of A RAY OF HOPE The Foundation breeder.. CONTENDER was a fabulous racer and a key to our success. Retired to stock at the end of 1999. He would have had a much better record if not for a bad habit.  A proven breeder as well.  He bred winners & combine winners in Fla., NY & NJ from 200 to 400 mi. Also a top performer in 2002 Africa Race. He was top shelf.

MILAGROS  Torres bred Janssen

1999 OB American Ace Pigeon 2000+ RP Digest

7th    vs.  8349b  260 mi.

81st  vs.  6852b 400 mi.

40th  vs . 9115b  260 mi.

27th  vs.  2161b 400mi.

7th    vs.  2739b  260 mi.

20th  vs.  2559b  400 mi.

17th  vs.  3516b  150 mi.

2nd    vs.  2569b  260 mi.

24th  vs.  2410b 300mi.

Daughter of "101" foundation Breeder, the last direct daughter of the "PEANUT GALLERY," & the Slate Cock. Milagros was a fabulous racer and retired to stock at the end of 1999. She's bred   3-250 mi & 2-300 mi YB wins in 2 states. She is also a gr.dam & G.gr dam of  combine winners as well. One of the best Lines!.

"DE 101" Torres bred  this was my # 1 breeding hen! Janssen based Daughter of the "PEANUT GALLERY" pair & gr daughter of "977".  This was the Dam of her line. She was the Dam & gr. dam of so many champions. Dam of MILAGROS, PRETTY BOY BLUE, STRONG BOY, and so many others.  She was the top of the line, and extremely pre potent as well! This blood runs through 50% of the family. (Deceased)

MISSY 856 Another super racer down from a top pair Aladdin & DE 48. This is one of  the best lines in the loft better known as the LOLITAS. Missy is dam & gr dam  gr.gr. dam to several winners & many top diplomas from 100 to 500 mi. with several cocks. In 2008  she can still breeds top racers & breeders. Most are bred for stock due to her age.

3rd vs.  2198b   400 mi.

16 vs.  2739b   260 mi.

28 vs.  8349b   260 mi.

34 vs.  7095b   400 mi

49 vs.  2410b    300 mi.

She's a direct sister of the great producer LOLITA and she is a champion  breeder as well. I can't say enough about this hen or this line within the family. They just don't know how to disappoint. Once again bloodline that breed winners for generations & racing performance you just can't beat that combination for perpetuating success.

"ROUGE" Torres bred Foundation cock Debieve based from his Norman Line. Introduced to the Torres family in 1996 and the most important addition to date. This fine foundation cock has been a tremendous breeder & the foundation of the best line in the Torres family. To date (2008) he has sired 11 individual winners 5 combine winners in 4 states for 5 handlers and many top diplomas. More importantly he is a super producer of several great breeders as well. He is gr. sire and gr. gr. sire to many winners and national champions in big competition from 100 to 625 miles. One of the most consistent & pre-potent lines in the Torres family! His blood runs throughout the family with great success Inbred, Line bred or crossed they win. Without a doubt one of the best & most pre-potent cocks I have ever come across.

CONQUISTADOR Torres bred Janssen

7th    vs.7796b   260 mi.

50th vs. 8349b  260 mi.

28th vs. 2739b  260 mi.

26th vs. 3125b  220 mi.

40th vs. 4328b  260 mi.

5th   vs. 3153b  260 mi.

Brother of 8 individual winners. Son of 4111 was a top stock cock. A proven breeder he sired winners from 200 to 500 mi. From the slates

BONNIE BLUE Torres bred

AU Champion Hen

1st vs.  2467b  262 mi. 

4th vs. 1600b  408 mi.

29 vs. 1281b  486 mi.

27 vs. 2993b  206 mi.

50 vs. 6305b  262 mi.

30 vs  2607b  262 mi.

49 vs. 2846b  262 mi.

26 vs. 3289b  219 mi.

2ND PL Hall of Fame 2001 O.B.,  CJC overall

An excellent performer and sister to other good racers as well. Daughter of the Davis cock when mated to "Lolita" .She was a very consistent racer and  produced well.

NITRO Torres bred

AU Champion Cock

3   vs.  2538b  210 mi.

22 vs.  3005b  210 mi.

20 vs.  1360b  408 mi.

43 vs.  2466b  286 mi.

37 vs.  1989b  262 mi.

41 vs.  1953b  262 mi.

This AU champion son of "ROUGE" is amazing  He was a late hatch & not a favorite due to short wings. He made all his champion points in 2 seasons. Then stocked. He produced  winners for 3 handlers  & several 2nds from 150 to 400 mi. Several sons & daughters and gr children are now also producing great racers. Prepotency at its best level. He sired winners with several hens.

The SUPER 30 PAIR This is my favorite pair! It is the stud cock, "BOOMER" a grandson of the ROUGE when mated to Wallflower. She is a daughter of the ROUGE. This super combination has bred so many great racers and absolutely invaluable breeders as well. They have given me a high percentage of my success and form 150 mi. to 500 mi. Winners are reported from this entire family and especially from these two up to 600 mi. They have bred several AU & IF Champions. Gr. children from this combination are now breeding super birds. 

EVOLUTION This grandson of ROUGE and son of Champion NITRO is proving to be an invaluable breeder. His name reflects the developement of this superior breeding line within the family. He has bred multiple winners with two hens in two seasons. When mated to his current mate  "SCHELLENS STAR" he sired four out of five winners for two handlers. One of his best youngsters is LADY JORDAN. (See the current Champs page for more info) 

THE PERFECT 10 One of the most resilient birds I have ever bred. Super Y.B. racer then almost destroyed by a hawk as a yearling. Then left to recover by the handler (Hillside Loft). He was then entered in the last race of the yearling season and won. As a two year old entered into 6 races & won 5x. He was one of my top breeders having bred many winners & his young are also breeding well. He is the cock of the Perfect Pair so called because they never missed. 2 generations later his gr children continue to breed success

HEARTBREAK Bred By Hapyco. She & her sister were top racers She was stocked when she blew the 400 mi. Northeast Union race in a tree. She is a Van Loon & was a big asset to the stock loft, breeding winners every year  & her ancestors are still producing as well. She was the hen of the Perfect Pair so known because they never missed! generations later they are still producing super racers.

EL VIEJO  Twenty one individual winners was sired by this champion breeder. His blood runs through all the great ones. He is line bred to the great Hartogs Juliana Janssen. He sired a 1st vs. 3429B. & a 2nd vs. 3690B. in 2000 at 12 years old. His blood is still producing winners 4 generations later. He sired great racers/breeders. Some of my best breeders are his gr. & gr. gr children. This is one of the most pre-potent lines. An amazing genetic fountainhead of superior racing and breeding champions that have produced for over 20 years.

LOLITA Dam of Bonnie AU Champion & Bonita. These were 2 of the best racers & pre-potent breeders in the family. She was the other ½ of the Great Pair. She was re-mated & still produced

Great breeders for other handlers as well as myself. Today's Torres family relies on this blood line for truly super performers. They just dont know how to disappoint. Lolita's is a heavy blend of my foundation Janssens and blended into some original Muelemans. Today's LOLITA's also have some Van Loon and OHF Romein Janssens from the 1990's. This line was built strictly on their ability to win and to reproduce those winners.

DE 48  Torres bred Dam of Missy 856 & LOLITA and dam & gr Dam to winners from 100mi to 500 mi. From My best & oldest Janssens and a direct Muelemans. She bred winners with 3 cocks super breeding hen. She has founded one of my most pre-potent lines 3 of her daughters have all raced well and are now breeding winners for my loft and others from 100 to 500 mi. She did exceptionally well when mated to Aladdin. These two were a super pair that started many good things in our family.

JULIE  She was one of my most valued breeders not only because she produced but because she is a bloodline hen back to the Juliana's one of the best of the Hartog's line of the Janssen strain She was one of Viejo's best mates that produced racers as well as very prepotent breeders. She  bred many winners with 2 cocks. Her blood is still winning generations later from100 to 500 miles.

ALADDIN  Torresbred Janssen based Gr son of "977" Brother of many winners. Sire of MISSY 856 & LOLITA and many winners from 100mi to 500mi. He did particularly well when mated to DE 48. He is sire & gr sire to several of my best racers and breeders. His Janssen blood proved invaluable to the family. 

BOOMER Stud of the Super 30's Torresbred Gr.Son of "ROUGE" He is a top breeder sired 2 AU Champions , a 3rd 2007 World Trade race 2nd Paterson Air Derby and several winners for other handlers and in big competition. He is mated to his cousin. Children from him are breeding great racers in several states. He is one of my most valuable breeders. His children have proven to become significant descendants to carry on the ROUGE line. The ROUGE line has been highly line-bred and in-bred successfully for 4 generations. 

WALLFLOWER Dam of the Super 30 Pair & daughter of the ROUGE cousin to Boomer  and an extremely successful breeder. She not only breeds great racers but even more important those elusive champion breeders as well. Her gr. children are very successful in the air and in the breeder loft. I cannot emphasize enough just how important a breeder she is. Multiple champions have been produced from her and her children. She is the favored dam of the Super 30 Pair! Winners are reported from this line up to 600 miles.

The Torresbred Family Tree

The Janssens Since 1979 with the Hartog's family of Janssens as a base, specifically The 88's &  Juliana's Many winners have come from this line over the years in 2008 they still score. That's 30 years of winning! Much of the family is related to this line. They are extremely pre-potent and race from 100mi. to 500 mi. This is the base of the Torres family.

The Schellens Introduced in 2008 as the Torres family could use a cross. After some offered recomendations about how the Schellens are crossing onto the Torres Family we decided to try a couple. We carefully analyzed the early results and concluded this to be the perfect addition. Still new but they have already made an incredible impact. We have aquired some of the actual imports of Speed Shop Loft's final sale and a few select young after all these were the ones that had been proven to be so effective by us. The lines include The GOEDE JAARLING, The SUPER  VOORUIT, DE ARGENTON  among others. These Schellens birds have made and continue to make a severe impact for those that know. I dont chase families or pedigrees but I do seek super performances, "WHEN YOU GET BOTH OUT OF ONE SOURCE YOU MUST SEEK THEM OUT AGGRESSIVELY." We went after the very best available and will continue to improve the line but the results are in and they are nothing short of spectacular. I know the future is bright with this addition to the breeder loft.

The Van Loons introduced in 1995 via the great Hapyco Loft from the Gig Peter's Lines tried and selected strictly by performance. This has been a key blend into the family.

The Debieve's  introduced in 1995 (Specifically the Norman lines) This is the "ROUGE" line that has been a very successful addition to the family winning & toughening up the family. They are a very pre-potent line of the Family. They come from 150 to 600 mi. & they love the tough ones. Super racers & pre-potent breeders a perfect combination. Many winners for 4 generations across the country from this line of the family.

As is evident for over 30 years this is a true high performance family of proven record birds. Almost all of our birds are very closely related and still they are great racers. That's what makes them desirable, especially if you are in need of a cross into your own family or if you are trying to establish your own family of high quality racers & breeders.

When you have in-bred or line-bred champion racers, they make invaluable breeders, and continued success is easy.

The reproduction of winners & continuously successful breeding seasons is made easier when you have a carefully selected time tested, line-bred family based on top racing performance. 

This is a PROVEN AMERICAN performance family. All our records are AMERICAN made!

**Please note - Our males are not mass produced. They have created their records by producing the normal amount of young per year. We may switch the hen to try a different pairing but not to create an unusually large amount of birds from one male or another. As a matter of fact we build the bulk of our family around our hens as we believe them to be better at passing on those winning genes.

Contact Information

Ray Torres

Mailing address; P.O.Box 178

Little Falls, N.J. 07424

Ph. (973) 785-2222

email: drtorresloft@yahoo.com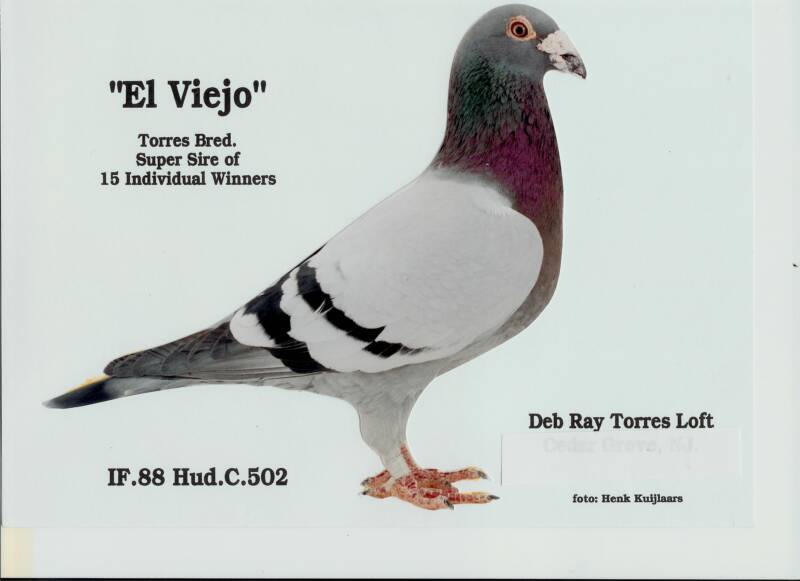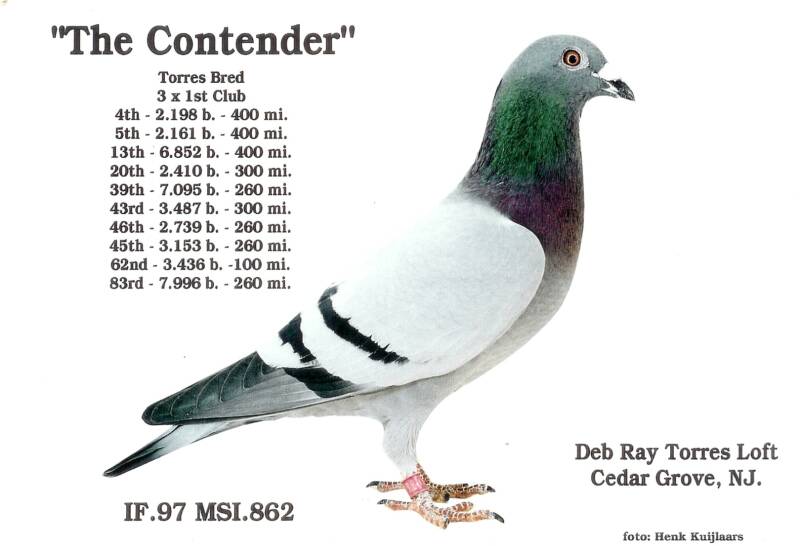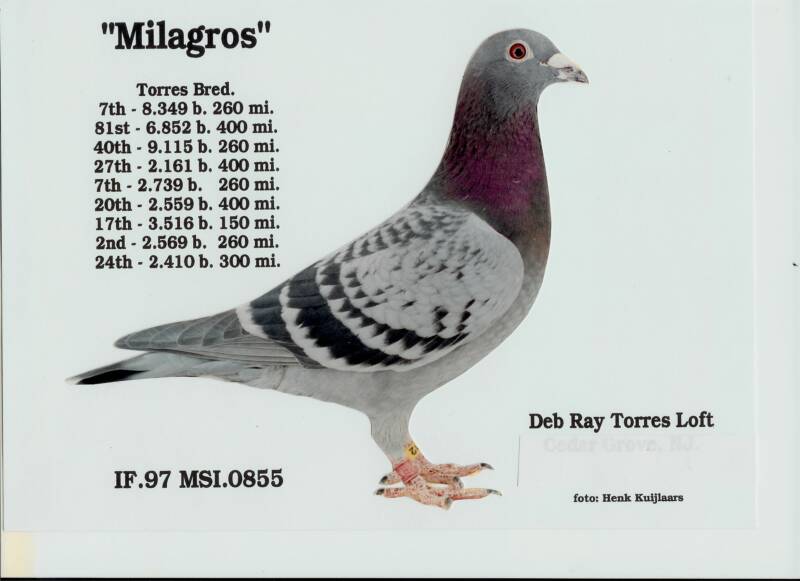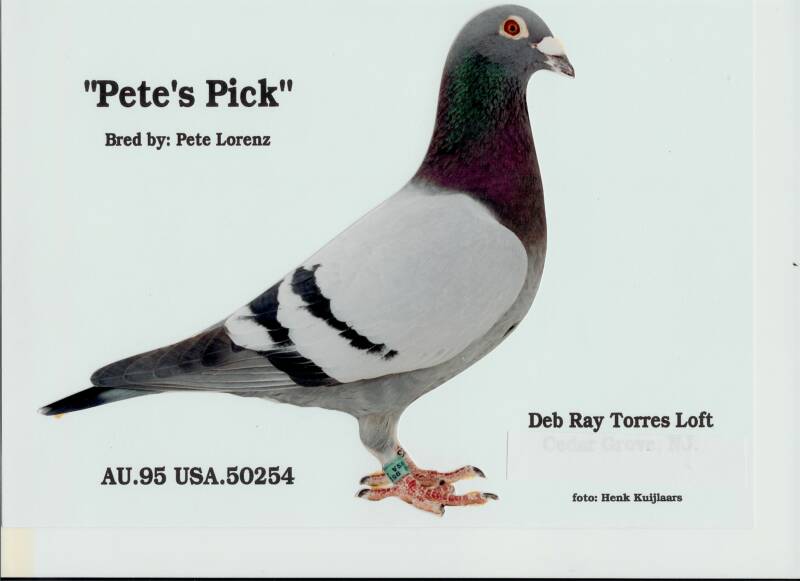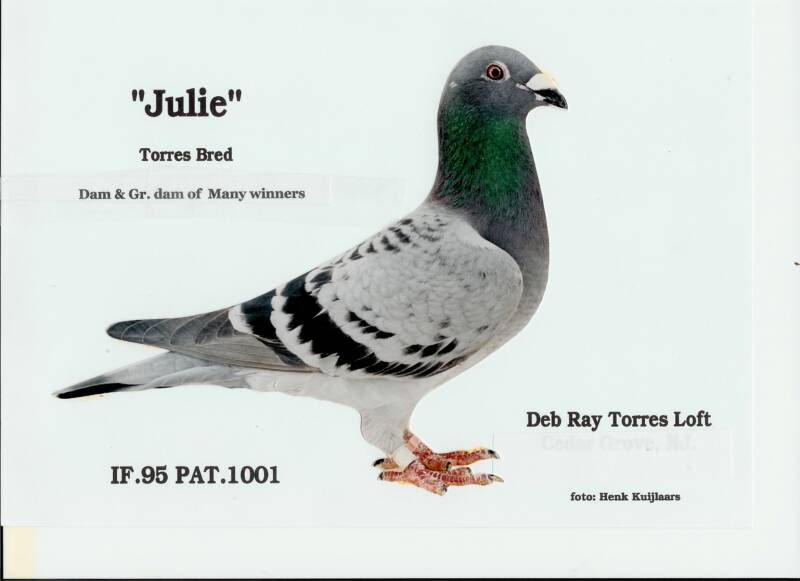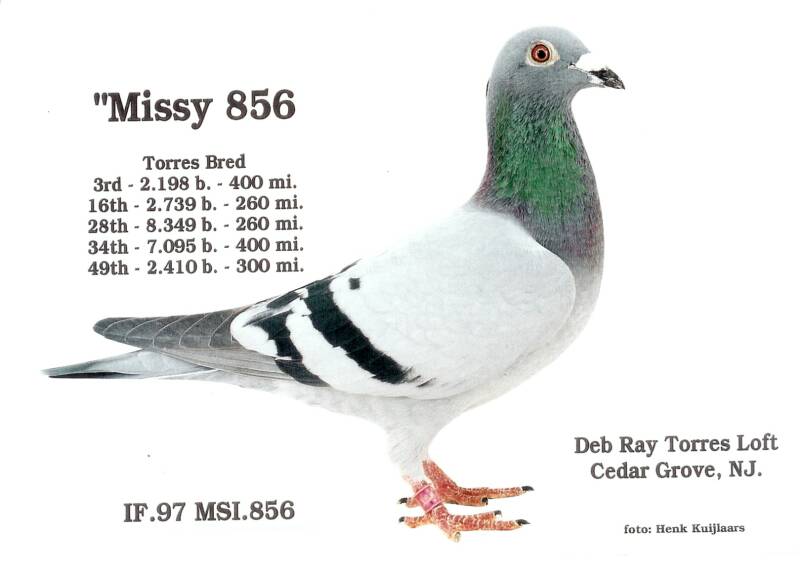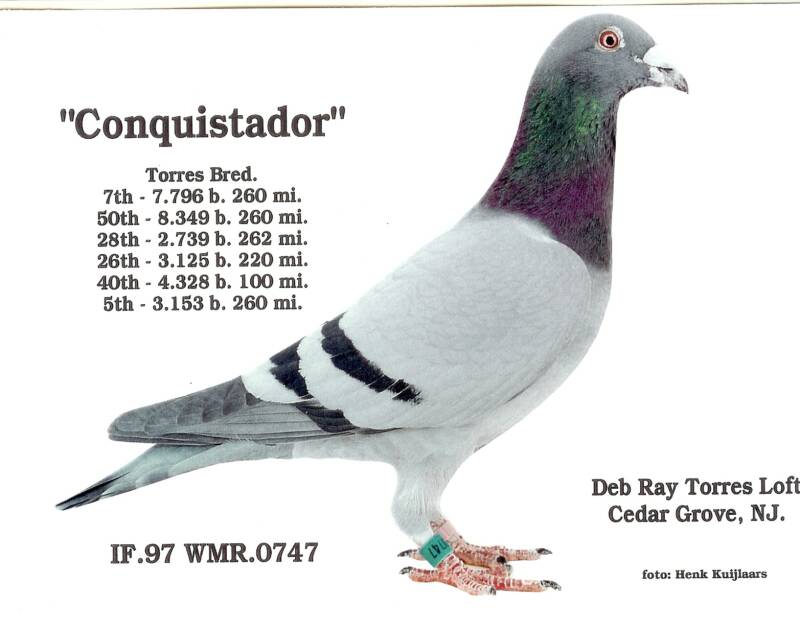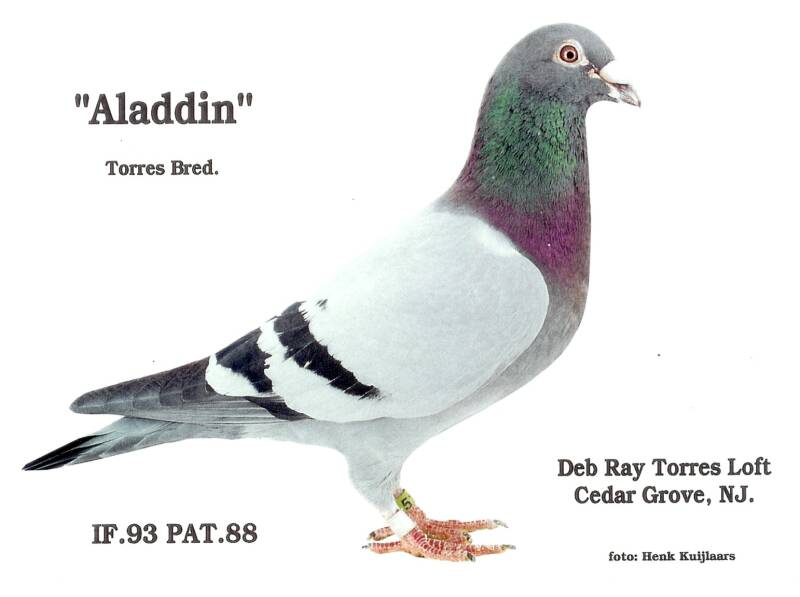 THE SUPER 30 PAIR  Click to enlarge


EVOLUTION  click to enlarge



WALLFLOWER  Click to enlarge

INTRODUCING The Schellens

As we are always looking to improve our breeding ability we are proud to introduce the newest addition to our already successful family

FLASH****FLASH****FLASH

This year (2015) We have a hen that has recorded 3 OB wins for us which now makes her a 7 time winner. Journeys End loft has reported 2 OB wins on a bird that already earned 2 wins as a youngster that makes it a 4 time winner. The multiple winners reports keep on being reported.

In 2013 - 2 seperate triple winners and double winners have been reported from 4 different lofts. To be able to breed  winners is a breeder's goal. But to breed multiple performers with the ability to win multiple races in one season is a blessing that is beyond our greatest expectations.  We bred multiple winners in 2012 and surpassed that in 2013.

Our Goede Jaarling & SUPER Vooruit Schellens when blended onto our already successful family is a big part of these results. I could not be more pleased with the Schellens impact on our breeding colony. 

The Schellens Introduced in 2009 as the Torres family could use a cross. After carefully analyzing results it was concluded the Schellens to be the perfect addition. The latest addition to the Torres family have already made an real impact. In our never ending search for better we tried the Schellens as was recomended by others that had crossed them on to our family. The results were amazing so we went in search of the absolute best Schellens from the lines that were successful for us. We aquired some of the actual imports of Speed Shop Loft's final sale and a few select young. The key is that these Schellens are are not just a lable. These particular birds have already proven themselves in large competition and in at least four different lofts so far in the USA. The bloodlines include The GOEDE JAARLING, The SUPER  VOORUIT, DE ARGENTON  among others. We went after the very best and will continue to search and improve the line but the results are in and they are nothing short of spectacular.

Our breeding team currently has a direct daughter of the Goede Jaarling,  14 linebred and inbred gr children of "Goede Jaarling." Several gr children and gr gr children of the Super Vooruit of Louis De Leus via Van Elsacker-Jepsen, among a few others and combinations of these lines. Following the successful breeding of Speed Shop Lofts with these very birds. 

SCHELLENS STAR A gr daughter of The Super Vooruit and The Goede Jaarling all in one fantastic package. Only breeding for us for 3 seasons as of this writing and WOW!!! The crossing of our Schellens onto our ROUGE family has been nothing short of  amazing. As is proven here they score from 100 to 500 miles. As of this writing three of the five born her first year breeding have earned really high positions in the CJC races vs 2500+ birds. More importantly one of them topped the 300 mi CJC Combine OB vs. 2570 birds. Another has 2 scores a 58th & a 76th and of course as shown on our current champs page Lady Jordan scored 4 positions no worse tha 16th vs an average 2600+ birds. They have further proved they are not just Young bird wonders. They win as old birds as well and at the distance. These are American results we are very proud to say.

We are now seeing many more champions from these lines as multiple brothers and sisters are breeding champions.. Thanks to my good friend Tom Fahmie for his superior handling and his help in proving this combination.

STAR is the primary dam to our latest breeding sensational couple. Her primary mate is EVOLUTION, Son of champion NITRO who is a son of the famous ROUGE. Together they have done wonders.

It takes some pairs a lifetime to accomplish what this pair has done in such a short period of time.

NOTE: The pair that created STAR was aquired and  has been kept together in an effort to recreate the breeding miracle that is STAR!!!  (See Below)

SCHELLENS JEWEL Mother of Star  This is a DNA certified Daughter of "THE GOEDE JAARLING" which is a full brother to "NATIONAL 1" and a son of the Karel Schellens foundation pair DE ARGENTON and THE BIBBERKE. The pair that started it all for the now famous Schellens. You dont get much closer than that to these elusive originals!!! However, this Schellens family is not all paper.

Her bloodlines superior status is validated by the powerful performances put up by her Gr children in large competition for several handlers right here in the USA. I dont get caught up in hype or fancy pedigrees but race performances dont lie!!! Her daughter is our SCHELLENS STAR one of our primary breeders. JEWEL just like STAR is a fantastic apple bodied and extremely well balanced hen with a throat to match. Both of them are special in every way. It is no wonder that they are such great producers. I have sevarl children of the JEWEL with The Magician and with The Bull.   

SCHELLENS THE MAGICIAN This is the sire of SCHELLENS STAR and the primary mate of the JEWEL. This son of the SUPER VOORUIT "arguably the best racing Schellens in the world" is no mistake. His dam is ORCHIDEE a direct daughter of the foundation pair of the World famous Louis De Leus. "Nothing but National champion performance birds behind this 07Belg6066471" aka THE MAGICIAN.

He is a gr sire and gr.gr.sire to several winners and a CJC champion overall so far and I am seeing really spectacular breeding results from this boy. He was mated to two hens last season in order to further validate his breeding ability quickly. 

SCHELLENS BULL This is another fantastic son of THE SUPER VOORUIT "arguably the best racing Schellens in the world" when mated to NERYS a champion Van Elsaker racer and is a half brother to the MAGICIAN. Nerys is a daughter of a foundation pair of Louis De Leus well known for his fabulous Schellens. There are many national champions in the background of this fine young BULL.This super male has been a super breeder for us. He is as valuable a breeder as his brother.

We are now blending, based on race performances, body type and bloodlines in that order the best of these birds. To continue the winning traditions established by this very successful Schellens family.

After just 5 short seasons working with this SCHELLENS line of birds I must admit that I have rarely seen a family that can cross and produce multiple winners at the rate that these birds do. The blending of this family onto my Rouge lines has been a very good decision for our breeding team.

. . 

SOME FAMILY FOUNDERS AND KEY MEMEBERS 


SCELLENS STAR Click to enlarge


SCHELLENS JEWEL click to enlarge


SHELLENS THE MAGICIAN  Click to enlarge


SCHELLENS BULL  Click to enlarge


Sisters 2 daughters of the famous ROUGE foundation male of the loft both girls have bred winners. The dark Diva has now bred several winners and near winners with 3 males.